In order to gain perspective on the collision industry as a whole and learn how paintless dent repair fits into the picture, PDRtalk had a conversation with industry expert, Mike Anderson of Collision Advice.com, Mike and his team travel all over the US helping collision repair facilities become more efficient and profitable. They offer seminars, onsite workshops, and body shop analyses.
Mike Anderson owned a successful body shop in the Washington, DC metro which specialized in high quality repairs on luxury vehicles. When a great opportunity presented itself, Mike sold the shop to a regional dealership group. He now provides all of the knowledge, systems, and strategies he learned over the years of running a successful body shop to others hoping to increase their profit margins. Here are 10 things we took from our conversation with Mike.
He was really impressed with the work of Brice Kelly of Central Florida Dent Repair, highlighted in our previous article here. Mike feels that there are good PDR guys along with bad ones. The key as a body shop owner, is to find a talented PDR tech and figure out how to utilize his skills to increase profits and reduce cycle time.
A good PDR tech can decrease cycle time by repairing damage in one day, opposed to having to send a car through the entire conventional repair/refinish/reassembly process. You can also sell additional COD dings and dents on vehicles you already have in your shop. Mike does think it is very difficult to train and keep an in-house PDR tech on staff at a body shop. After you send a body tech off to school to learn PDR, they rarely have the time and patience to practice and apply what they have learned. It is also hard to hire an established PDR tech as a full time employee. Most advanced PDR techs are accustom to making a certain income that a body shop can not match in salary.
If I had a body shop today, I would do anything in the world to get a good PDR guy, because I think he could help you make some money
Body shops that are in the know, are using push to paint (aka P2P or PTP) to minimize damage and get cars into the paint shop faster. Instead of grinding down the paint and performing a conventional repair with filler, P2P uses the skills of a PDR tech to flatten the damage to a level where it can be lightly sanded, primed, and ready for the booth. Push to paint also helps reduce the size of a repair and keep it localized to a certain panel. Instead of taking a baseball sized dent and spreading the repaired area to the entire panel with body work, P2P keeps the repair contained to the original size of the dent. Along with P2P, paintless dent repair can also help reduce panel blends. For example….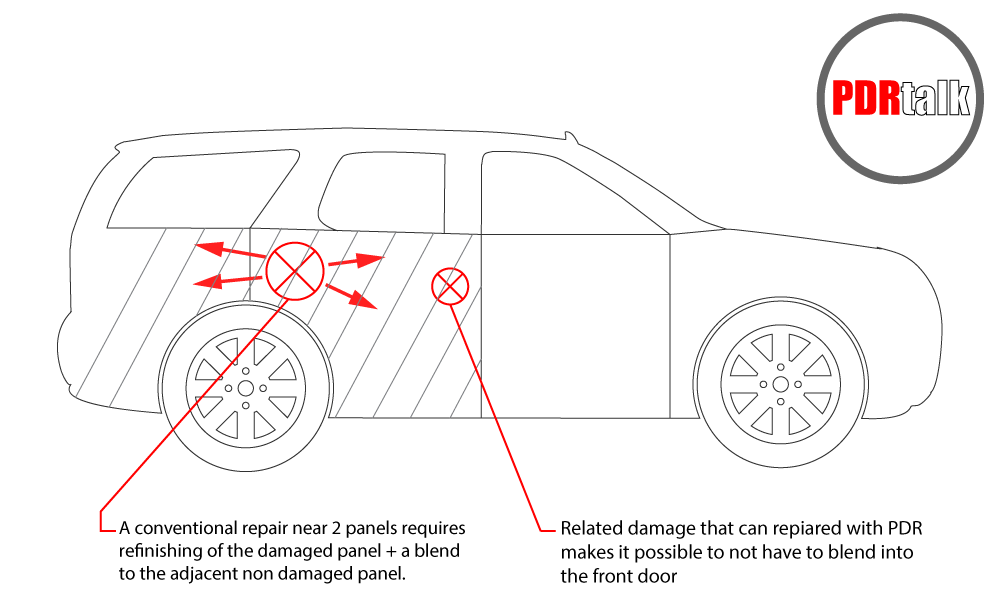 Mike spoke about instances in Montana and Texas where body shops were hit heavy with hail storms. Out of town PDR techs were put into the DRP shops from the suggestion of certain insurance carriers. Those PDR techs rushed through the work and delivered unacceptable results. The shops were then left to deal with all of the problems and comebacks after the out of town PDR company had moved on to another storm.
Most body shops don't like these PDR companies that come from out of town. They like to deal with someone that is local, that they know what their quality is like.
"Virtual Steering" will become a reality in 2-3 years. OEM's want to control the collision repair experience and help guarantee the owner of their particular brand will avoid problems after the car has left the body shop. Here is how the process works. As soon as your vehicle is in an accident, the OEM is notified. They then instantly directly communicate with you and can recommend a certified body shop . For example…
OEM dispatcher, "Sir, we were just notified of a collision. Is everything alright? Would you like me to dispatch an ambulance or the police? Would you like me to dispatch a certified towing company? "I can also find you a certified collision center."
Collision centers that want to get onto the OEM's recommended list will have to complete training and have certain tools and systems integrated into their facility. According to Mike, BMW has already set up a network of certified collision repair facilities in Europe.
Luxury manufacturers have been using aluminum body panels to reduce weight and decrease corrosion for over 20 years. However, aluminum has gone mainstream with the release of the all aluminum panel Ford F-150. As a result steel producers will introduce more high strength/light weight alloys for structural components along with body panels. Some of the ultra high strength alloys that include boron can not be repaired and must be replaced. How does this affect the PDR technician. Aluminum is more difficult to work on but it is still repairable with PDR, unless it is stretched. HSS is very difficult to repair with PDR, and often surprises the technician, because there is no easy way to confirm if a panel is HSS, unless you have a subscription to a database. UHSS is basically a dead end when it comes to PDR because of several reasons highlighted in this BodyShop Business article.
The lower cost can provide greater upfront profit margin. However, the extra time it takes to make those parts fit correctly can increase the body time on the repair. Replacement OEM parts provided a more precise repair and maintain the structural integrity of the automobile, as illustrated in this video produced by Ford. The suggestion to use OEM parts is just one more example of how car manufacturers want to control the quality of collision repairs performed on their vehicles.
When PDR technicians have to perform repairs (particularly hail damage), removal and reinstallation of interior trim panels and headliners is required. Cars are becoming more and more complicated with full integration of electronics and computers. Often times when a trim panel is disconnected from the vehicle, hidden fault codes are stored in the car's body control module. These fault codes will not set off a dash light. However, they can result in a manufacturer not covering warranty issues in the future. Mike suggest that PDR techs invest in a scan tool, so they can check for and clear all fault codes after they have completed the repair. We also touched on R&I items that are manufactured as one time use parts.
I'll give you an example, If you remove the center trim pillar on a Nissan Versa, you can't reinstall it. It's a non reusable part. Guys snap them back in, but the reality is that part is not supposed to be reused
Every time you remove a tail lamp on a Toyota or Lexus, that gasket is supposed to be replaced.
Headliners can be very difficult to remove and reinstall correctly (especially for luxury brands). In an ideal world, a car would be sent to the dealership to have the headliner removed and reinstalled before and after the PDR repair is completed. However, cycle times and the money insurance providers want to pay for R&I, makes this process not likely to occur. Mike suggest PDR technicians invest in a system like ALLDATA so they can know the exact R&I processes and parts costs when they produce a hail damage estimate. Such a system will also help PDR techs identify which items are not reusable and must be replaced.
Body shop conglomerates such as Gerber, Service King, Caliber, and ABRA are on a major buying spree, backed by billion dollar investment firms. These companies are rapidly buying up individual and regional groups of shops expanding their footprints and market share. For individuals that have owned a body shop for 10-30 years, now might be the perfect time to cash out and move to Hawaii. If selling your life's work is not an option, Mike thinks it is critical for individual shops to align with insurance companies and get into the OEM networks that will eventually emerge. In order to stay profitable amongst the current wave of consolidation, Mike thinks an individually owned body shop will have to gross $3-5 million a year.
Check out this really informative graphic illustrating the rapid expansion of Caliber Collision and Service King. The graphic is from the Dallas Business Journal article, "Crash of the Titans: Explosive Growth of Service King, Caliber, no accident."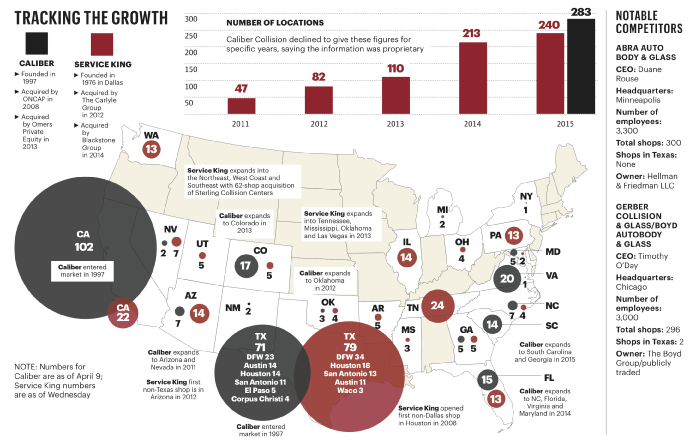 The current state of the collision industry is focused on reducing the amount of time it takes to repair a vehicle. Insurance companies want their customers back in their vehicles and out of loaner cars ASAP. As a result they score and rank body shops on quality, consumer surveys,  and cycle time. The shops at the top of the rankings are rewarded with more volume. Because replacement parts profit margins have been squeezed, volume is essential in making money. As stated previously, when used correctly a highly skilled PDR technician can help a body shop decrease cycle time and churn through that volume more efficiently and cleanly.
There you go fellas. Ten knowledge bombs that will help you understand the collision industry better. Take what you've learned here and apply it to your body shop service strategy. In my opinion, push to paint is a great opportunity for revenue growth. If you're not utilizing P2P, get on it. Keep Pushing!