with: Doug Hillius, Dent Solutions (Bellevue, Washington USA)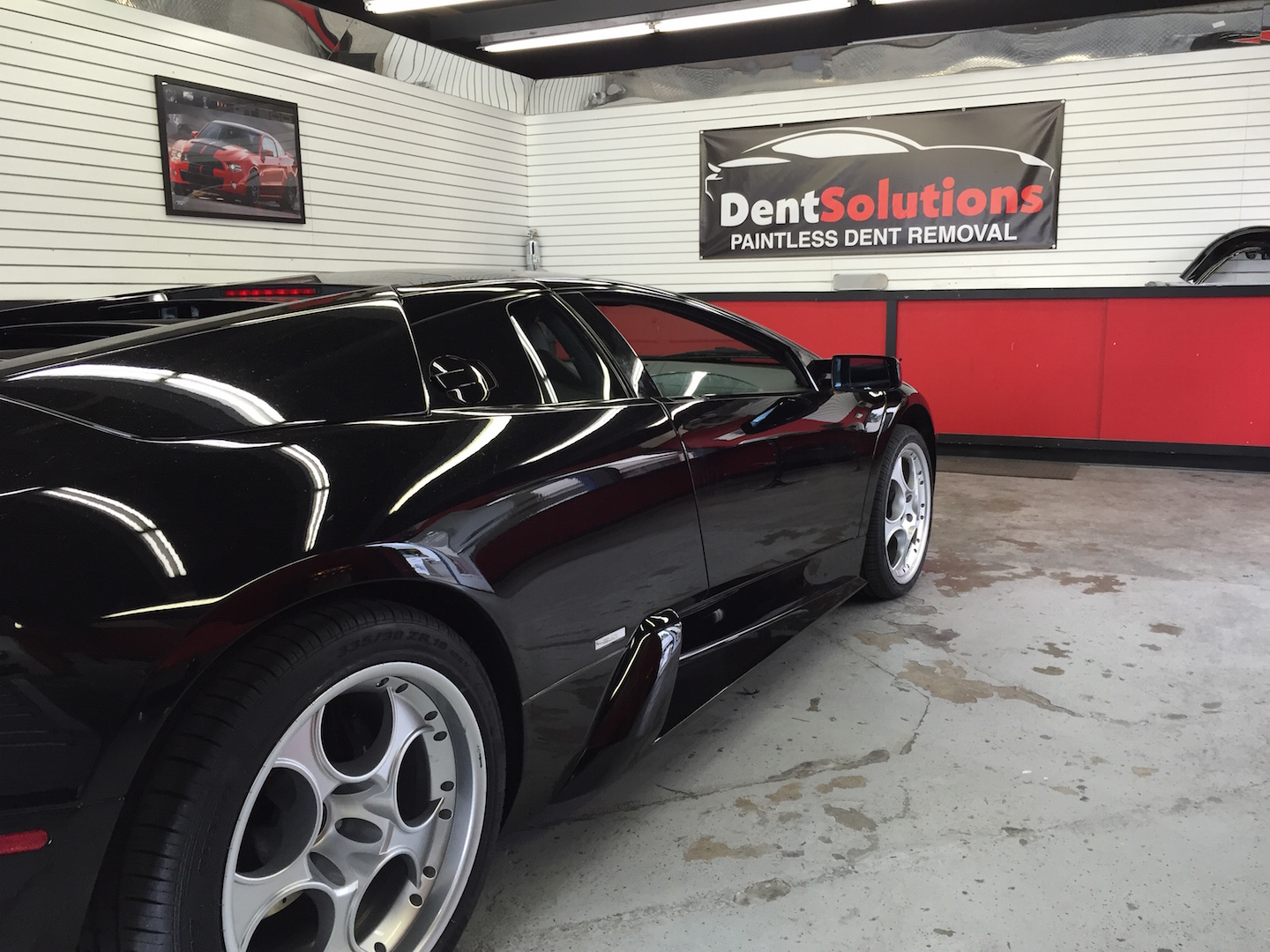 Doug Hillius is a competitive guy. He's played soccer at a high level for 35 years, races motorcycles, and crushes the PDR competition in his local market of Seattle, Washington. He started his paintless dent repair career in 1998 with Dent Wizard. After training at corporate headquarters in St. Louis, Missouri, Doug came back to Seattle and quickly became the highest grossing tech in his region. Even though he was setting records within 2 years, his commision percentage stayed lower than other techs billing far less. With little hope of his pay structure changing and lack of support, Doug decided to break away and start his own dent removal business in 2004. Over the years he built a solid route of high end luxury dealerships, body shops, and individual retail customers. Just this year Doug decided to make another big move and open a fixed location dent shop. PDRtalk recently sat down with Doug Hillius, and talked about his PDR career and the new retail shop.
When did you decide to start your own dent repair business? Was there a breaking point or light bulb moment that helped you decide to make the jump?
I decided to start my own business for a few reasons.
I had hit a ceiling within the first few years at DW.
As the highest billing tech after year 2 my % was still as much as 17% lower than other techs billing less.
I had nearly every new tech ride with me after graduating school and noticed a pattern of lazy guys who just assumed they would soon be making $100k a year without putting in the work.
I realized I could make the same money on my own easily….and the list goes on.
Before you opened the shop, what did your route consist of (mobile retail calls, service lanes, body shops, used car lots, etc.? Break it down into percentages.
I was a mobile guy for 16 years before deciding on a shop. Every morning I worked in the service lane at Mercedes-Benz of Seattle. I started at 7 and finished around 10. At one point that provided me nearly 50% of my income when times were good.  But it slowed over time.  My retail I would say was only around 20-25% and the rest was made up of dealership lots and body shops. Currently, I still service the Mercedes lane in the mornings and then head to my shop for the rest of the day.
You service several high end luxury dealerships. How did servicing those accounts help you build a strong retail presence?
As far as high end dealers, yes, this is a big help in retail presence. Locally I handle Mercedes-Benz of Seattle, Ferrari-Maserati of Seattle, Bentley-Lamborghini of Eastside, Park Place Motors (high end consignment), Aston Martin, and both Tesla dealers. I think when customers realize that these dealerships trust me, then I must be at a premier level of service and workmanship.
As your business grew, what factors finally made you decide the time was right to open a retail shop?
Deciding on a shop was a hard decision. But locally the only retail shop (Dent Wizard) closed their doors. I know from the 5 years working for them that it wasn't because of lack of business, but a lack of skilled techs. I repaired multiple jobs that customers told me that the DW shop said could not be done. I remember one day making a post online ( Facebook) and saying,
I Must be the only dent guy who works around here because I'm up to my ass in work and never seem to catch up.
Well that was 5 years ago and I still clock 10 hour working days and rarely if ever cannot fill a day. I guess at that point I made the realization that I'm a solid PDR guy with a pretty great reputation. So, I felt like I had laid the groundwork to start a shop and stay busy.
Another HUGE factor was traffic. I would spend hours a day in the car. That time is free time. As in free of making any money. I decided that 1 location would allow me to do more work and less driving. And let's be honest it rains a ton in the NW!! A shop allows me to control my environment. I can jack up a car, remove a wheel etc. After 16 years of mobile service, the shop life is pretty nice.
How did you go about finding the right space?
In deciding on the right location I partnered with a high end detail shop and a paint protection company. We all occupy separate units within a very high end car dealership complex, Park Place Motors. Our goal was to offer individual customers one centralized location where they can bring their car and have multiple luxury services performed.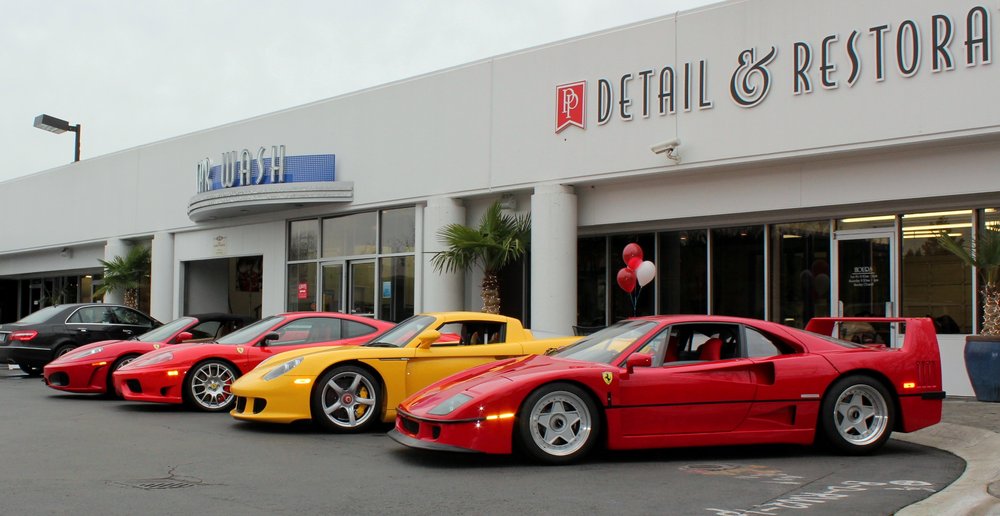 Seattle is a pricey area. Was it hard to find a good location and facility that didn't bust your budget?
Real estate is very expensive on the east side. Buildings are at a premium as well. But as a group, (myself, detail shop, tint guy, and vinyl film company) we were able to get a large building and divide it efficiently.
What factors made you decide to choose your current space (parking, visibility, location, surrounding businesses, etc.)?
It is street side on a main road and is in an area with multiple dealers and body shops. I personally think this is key to PDR shop success. You want your shop to be close to these related businesses, so they can bring their cars to you easily. If you have to go to them, making a quick mobile stop is easy as well. It is also nice to be able to network with the other related services and share retail customers.
What kind of area is your shop in (industrial, retail, on a main road, etc.)?
My current location is in a high end dealer complex. A separate building but in the same complex as the above listed partnered businesses. We have a new location only just up the road from the current one that is being upgraded as we speak. The new location is quite a bit bigger, which will allow me to fit more cars in the shop at one time and increase productivity.
Did you sign a long term lease?
Lease is a 5 year with a five year option.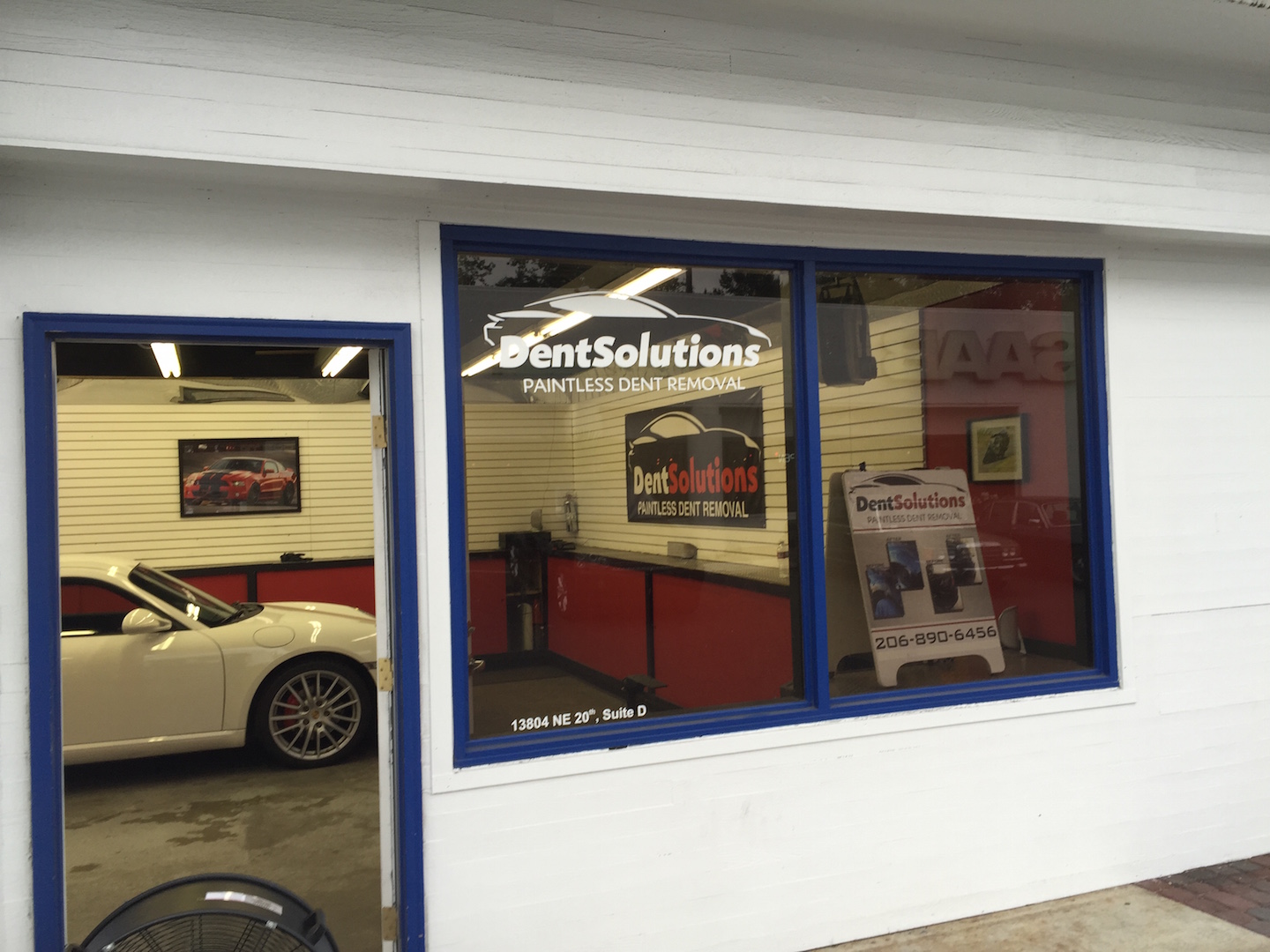 How would you compare the challenge of opening the shop vs starting your own PDR company?
Comparing starting my own business to opening a shop I think has a few of the same stresses. I left a company ( DW) making great money to try it on my own. I stopped being 100% mobile making great money to see if I could make a shop successful. Both of these are tough to let go of what's comfortable to try a new challenge. Obviously after this many years in the business I figured no matter what, I could always go back to mobile if need be. Both decisions have been ABSOLUTELY worth it on every level. My monthly totals have drastically increased since opening the shop. I think it's a combination of less wasted drive time and the fact that my pricing has risen, which seems to be the trend from other high end dent guys all over the country.
Are you a one man show or do you employ other PDR techs and office help?
I was a 1 man show until 2 months ago. I hired an employee and man what a great help that has been. To not have to do 100% of EVERY single aspect of the job is such a relief. I sent him to train with Myke Toledo at Dent Time. He is now in an apprentice role, learning the fine details of the business and refining his skills. I also have a CPA and a bookkeeper I pay monthly to do my necessary billing, taxes and the such.
Choosing the right guy to train and join your business is a difficult task. Where did you find him? What made you decide he was the right fit?
He actually worked at Park Place Motors, which is in the same complex as my shop. He was in charge of greeting customers and managing the hand car washes for the dealership. I wanted to hire someone for a while and every time I thought about who to choose, I kept coming back to him. His greatest asset is his people skills. He can talk to and relate to all types of people. He's also self motivated. I think that is key when choosing to bring someone into PDR. Anyone can learn how to push dents, if they put enough time and effort into the trade. You really need to have someone that can build rapport and gain the trust of people, so those customers are willing to hand over the keys of their prized possession. You also want a guy who can make things happen on his own and doesn't need to be micro managed. He kind of reminds me of myself when I first started. I think he will do really well when I turn him loose. Once I was introduced to PDR and taught the details of the business, I was like,
So I can make as much money as I want. All I've gotta do is keep pushing myself and working harder than everyone else. That's all I needed to hear.
Do you still offer mobile service? If so, how do you balance running the shop and making service calls?
Since the shop has only been open since February I'm still balancing shop and mobile. I will travel mobile to some accounts, dealers and body shops. But no more retail mobile. Having a guy does allow me to leave the shop and know that customers who stop by are getting the info they need while I'm out. Eventually, when my new guy is up to speed, he will take over the mobile aspect of the business. That will allow me to hang at the shop all day, where I'm most productive.
Do dealerships and bodyshops bring cars to you?
My dealers and body shops do bring cars to me. At first they didn't necessarily love that, but now they just ask "do we need to bring it in to you?" That includes shops across the water in Seattle. Initially, I thought dealerships and retail customers would be hesitant to drive from downtown to the Eastside. To my surprise, it really has not been an issue.
Do you offer any other non PDR services? If so, is it in-house or subbed out?
I refer customers to other services but don't sub out any work.
Some guys don't like to be watched while they work. How is your shop set up? Do you let the customers see you perform PDR?
Personally I enjoy when a customer sees how it's done. It changes their perspective on the amount of skill and patience this job really entails. That it's not just some magic suction cup or smoke and mirrors.
How many cars can you fit/work on in the shop at one time?
My current shop holds 2-3 cars. But the new shop will hold much more. We need it.
All repairs are different and take varying amounts of time. Do you have an ideal number for how many retail cars/repairs you want to see a day?
As far as daily work load I don't have a number of jobs I shoot for. But I always try to fill or even over fill my schedule. I like to schedule customers in specific time slots. I will work on cars while people wait, but I've found drop offs are easier to manage. I'll tell a customer to drop off the car in the morning and I'll have it done by lunch. Or drop off at lunch and it will be done by the end of the day.
How do your customers find you (website, walk-ins, referrals, Yelp, etc.)? Did you initiate any kind of heavy marketing push when you opened the doors for business? If so, what was the most effective?
As far as advertising. I only launched my website a few months ago. I was word of mouth for all of those years. Yelp is pretty big for me. I'll see 25-60 weekly hit and referrals from that alone. Yelp seems to be big on the west coast.
Do you have plans to expand or eventually buy a commercial space for your business?
The hope is to try to purchase the new location between all of our combined businesses. But we'll see. Property here is worth gold!
What were some of the most challenging aspects of opening the retail shop? Any pitfalls or roadblocks other dent guys should keep in mind when choosing to go brick and mortar?
Opening a shop has been great. It's a different kind of feeling than being mobile. When you arrive at a customer's home in whatever vehicle you're working out of, be it a truck, van, or car it doesn't seem to have the same feeling than when a customer drives to you and hands over their keys. They look at your shop and make a decision on what you are all about. I enjoyed mobile, but there is a bit more pride with a shop for me. I feel pretty lucky to have worked so hard in the years previous to a shop to say the transition has been rather smooth. You do lose a little bit of independence though. I remember when I was mobile, I would bill a bunch of money by 3:00 and then call it a day. Now I've got more of rigid time schedule, but I think it's worth it. The monthly billings are way up. Actually to a level much higher than I projected. A shop isn't for everyone, but I can say that I couldn't be more pleased with the decision.
To connect with Doug Hillius check out his Facebook page and new website: